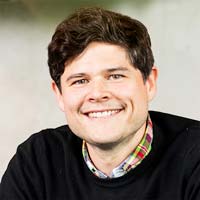 My name is Pascal Jeschke. I am a freelance digital designer and have my heart set on UI/UX-Design for websites and web applications. I have been building websites for 15 years now. My work base is also my hometown Munich, Germany.
I'm focusing on web standards, usability, performance, accessibility and ethics. I strongly believe that these are the key ingredients for the User Experience. I do also quite some Frontend development (HTML/CSS) for small sized websites. Irregularly, I also write articles about design.
What happened so far
The timeline shows a selection of my work. Funnily, my work can easily be grouped by common topics. For example, now I am fully commited to the era of science startups. While I kickstarted my career as a founder and art-director of an online design magazine. Eras are emphasized like this.
2018
DiaMedCare
DiaMedCare is offering vendor financing solutions for high tech companies. I designed and developed their corporate website.
Hi-Knowledge
Hi-Knowledge is a novel online tool that structures information in a unique way, thus making it accessible to science and society.
The initial phase of the project focuses on invasion hypotheses and accompanies the book "Invasion Biology – Hypotheses and Evidence".
My brother Jonathan Jeschke, Martin Enders and Tina Heger developed the idea. The interactive tool and corporate design was developed by Marco Bagni and Max Zimmermann. The website around the tool was developed by me.
2017
knowing
I support my partners science startup knowing, which is still pre-seed. I built a small landingpage describing their aim to launch a product that provides simple, transparent and fast access to Life Science data using a cell map.
InDyNet
IndyNet is a network of scientists studying temporal changes in biological invasions and their impacts. My brother, Jonathan Jeschke, is coordinating this network. The fast loading website includes a service worker for basic offline support.
PreOmics
After the foundation of the science startup PreOmics, we launched a more comprehensive website including their different products. At some later point, we included a small Shopify online store.
2015
PreOmics
I support two friends of mine with their science startup PreOmics which was still pre-seed in 2015. We launched a landingpage to explain their aim. PreOmics builds innovative tools for mass spectrometry based proteomics.
2013
The science startup era
Besides working for big(ger) corporates, I regularly support small scientific projects and startups with design, frontend development and consultancy work.
IdeaClouds
IdeaClouds is a science startup offering a web collaboration tool for brainstormings, workshops and agile project work. I helped them improve the User-Interface and helped building the landingpage. I delivered HTML/CSS-Templates.
2012
AlpenLuxus
I co-founded AlpenLuxus, which is an online portal for luxury wellness hotels. At some point later in time, I canceled my partnership but still support the project.
2010
The large(r) company era
The web was professionalising. Design became THE thing. Companies realized it and began to invest in (in-house) design teams.
I supported and still support companies in digital product design (UI/UX-design), working solo as well as with internal design teams. I now collaborate closely with Product Managers and developers in an agile environment.
Clients include AutoScout24, 1&1 (as well as GMX and Web.de) and holidu.
2008
The blogging wordpress era
I designed and developed quite a bunch of wordpress sites. It was exactly the right time, as wordpress was on his way to become very popular.
Good examples of this time are some blogs I developed for MTV and VIVA (none of them are online any more).
2004
The Encore era
I co-founded, art-directed and wrote for Encore, an online magazine on design, photography, illustration and film. Encore Magazine combined the look of a print magazine (how ironic, but hey, it was 2004!) with the interactivity of online technologies to create a unique experience that moved way, way beyond just reading an ordinary magazine. It was published by MagWerk until 2008.
Encore was very successfull, award-winning and never profitable. It was widely respected in the online design community. We gained a lot of recognition.
It was the same time, when websites were very experimental and artsy. It was a wonderful time for being a webworker. However, the web now is definitly more user friendly and professional.
Sadly we never mangaged to sell enough ads to make a living of it. However, I made a lot of friends and contacts and the project itself attracted quite some future clients.
2003
The film-business era
The first paid (web)design jobs all came from the film-making business (for which I occasionally still work). I crafted websites for directors and authors, as well as small production agencies and independent movies.
The website of Anno Saul from 2003 is still online (although it went from a table based layout to a bunch of divs at some later point).
Also the website of Tom Bohn from 2008 still looks very similar up until today.
Nervousroom
I co-founded "Nervousroom". It was an ezine about design (like K10K, Design is kinky, surfstation etc.) which evolved later in Encore Magazine.
2001
Why it all started
Built my first website using HTML only to embed Flash (oh yeah :)) as a present to my girlfriend and the future mother of my kids.
More about me
I do this job for quite some time now, in 2003 I got my first gig for a website. During this time, I studied sociology and graduated with a German diploma in 2008. The topic of my thesis was already related to my profession and passion: "Knowledge transfer in online communities". Read my thesis here (PDF), but beware, it's German only.
I believe in the web. That's why I work in the web industry. Even if I struggle with the web sometimes – it feels partly broken and out of control – I do my best to make it better. I believe in its openness and easiness. Even though it can get quite complex.
<buzzword-bingo>
I design and develop mobile first. I believe in progressive enhancement. For smaller projects I design directly in the browser. I guess I would call myself a "Webdesigner" back in the days. But this doesn't sound en vogue any more.
</buzzword-bingo>
I enjoy spending much time with my two kids. I am an autodidact, vegetarian, coffee geek and mountainbiker. I also do some photography. When I spare some time, I like to write articles round about the design topic.
Thanks for stoping by!